Clients can attend the training at our computer lab based on the given date. Pay per person.
Date: Refer to our training calendar
Venue: Computer Lab, MU DOT MY PLT (Subang Jaya)
Syllabus: Predefined course contents
Conduct this training at your office anytime, anywhere. No limit on number of participants. Just pay per day!
1. Unlimited participants
2. Training date can be chosen by your company
3. Training content can be personalized
Improve your skills and develop your career by joining our training now!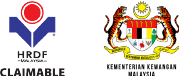 HRDF Claimable
MOF No: 357-02240271
Catalogue ID : 80141607