On 26 August 2017, MU DOT MY PLT conducted a 2-hour Google AdWords Marketing Training for free at the computer lab of MU DOT MY PLT, Subang Jaya. The training was conducted by our Google AdWords certified trainer, Sam.
This Google AdWords Marketing training is the first step towards digital marketing in Google. During the training, participants learned the concept and fundamentals of Google AdWords. This training is perfect for beginners who want to explore Google AdWords and wish to grow sales online.
A total of 20 participants has participated in the training. At the end of the training, all participants managed to learn the fundamentals of Google AdWords and set up their first Google AdWords account.
Want to Learn More on Google AdWords and Get Certified?​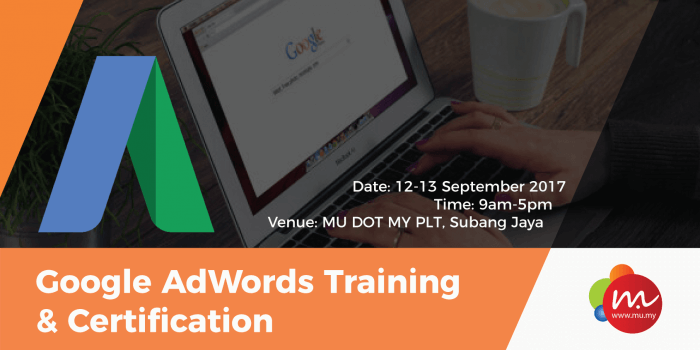 We offer Google AdWords Training (2 full days) which including unlimited exam attempts & certification by Google. You will learn how to advertise and promote your business on Google by using Google AdWords.
Upcoming Google AdWords Training & Certification: 13-14 September 2017.
For further information: https://www.mu.my/en/training/google-adwords-training-certification/
Contact us info@mu.my or 03-8011 6639